Full Name: Joelle Dumont
Job Title: Internship Year Advisor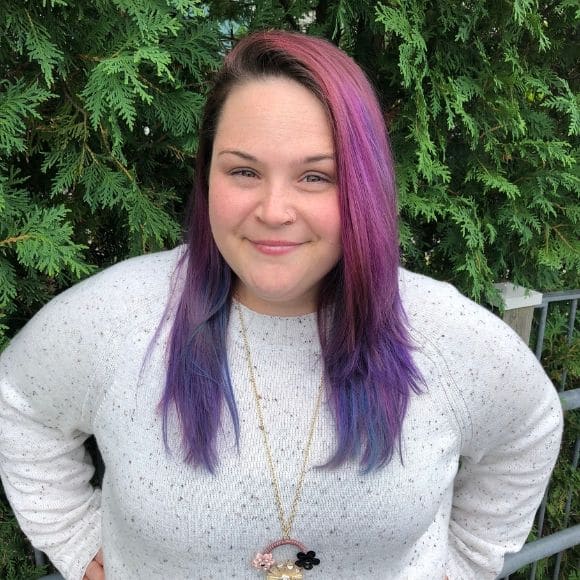 Bio: 
Joelle just entered her third year with working for Dynamy in a new role as an advisor. When Joelle began working with Dynamy in 2017, she was a Residential Coordinator that worked with students directly in the apartments.
Questions
What makes Dynamy Unique?
Dynamy offers such a great experience for students learning how to become independent and college ready with many supports through several different means. I truly believe what makes Dynamy so unique is the amount of support students have in terms of having a residential staff, individual advising, additional student support with graduate-level interns, and are always encouraged to reach out to the Program Director if they have concerns with the program. Staff always meets a student where they are at in their journey and skill level to make sure their needs are being met and making sure students are working towards making the best out of their internship year. I am amazed at how kind and dedicated staff are to engaging with all students in the program. It makes me proud to be a part of this fantastic team.
What is your favorite aspect of the program?
One of my favorite aspect of the program is our Monday Programming we have on a weekly basis where we have workshops and team building activities to bolster our community and provide education on topics such as resume writing, interviewing skills, nutrition and cooking workshops, and future planning. As a team, we do our best to get student feedback on workshops and ask what types of workshops they would like to learn about. Student feedback is important for our planning process, but also allows students to have autonomy in their learning experiences.
What is the best success story you've heard from a Dynamy alumni?
I always enjoy it when students come back to Dynamy to visit and share their experiences. One of the students who had lived in an apartment I supervised named Eloise went off to UMass Amherst in the fall of 2019 to study theater. She happened to be in the area after seeing a play at the Hanover theater and came back to campus to check and visit. During our discussion, Eloise talked about how she had been enjoying her first year of school and was about to start Tech Week for one of her college's Spring productions. She told me how having one of her internships at the Clark University Theater Department made her feel more prepared in comparison to her other peers who had never done stage management or production before. This student was our first student to ever have an opportunity to have an internship with the Clark University Theater Department and did an amazing job while she was there.
If you could participate in an internship offered through Dynamy, which one would you choose?
If I could go to any internship offered through Dynamy I would go to Crust Bakery to improve upon on my baking skills.  
What is your favorite part of working in Worcester?
One of my favorite parts about working in Worcester is being close to so many diverse restaurants. It is a great way for both staff and students to see the cultural diversity of the city through the food it has to offer.
What do you believe to be the biggest factor in being a successful Gap Year?
I believe the biggest factor in being successful Gap Year is putting all of your effort into the experience. I see students get the most from their experience when they are working hard at their internships, trying to be active in reaching out for support, and stepping out of their comfort zone to try something different they normally do not do (i.e., cooking, learning how to clean, engage in conflict resolution, socialize with peers, go to res life events, explore the city).
Dynamy is the longest-running US based, internship gap year program. With over 100 options for internships, opportunities to grow through independent living, and much more, contact us now to see if Dynamy is the choice for you!